www.estibot.com offers a variety of tools for domain owners, and is currently the most reliable automated FREE tool for valuing any domain that you own or wish to purchase. The newest version of Estibot analyzes more than a dozen different aspects of the domain and/or the keywords in the domain and suggests both a wholesale price (for bulk sale of a portfolio of names to another domain investor) and a retail value (the price that a business owner would pay who intends to develop the domain).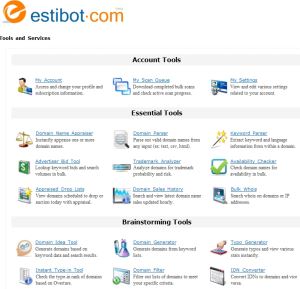 Estibot is a collection of tools indespensible to anyone who owns domains. In addition to valuing your domains, you can also automatically parse a group of domains into separate words (an important technology for accurate valuation), look up terms in the USPTO trademark database to see if you are at risk of violating a trademark with your domain, check on availability of a group of domains, or do a bulk lookup of the owners of a group of domains.
Although automated domain valuation has NEVER been trusted in the past, we have found that Estibot is a leap ahead of any other effort to automate appraisals and is fairly accurate, especially at evaluating keyword-oriented domains, but less accurate at valuing otherwise "brandable" but meaningless names. For many smaller domain owners who believe that everything they own is worth tens or hundreds of thousands of dollars, Estibot will probably be a disappointment.
We used Estibot to value all of the domains that we own and have sold in recent years, and found it to be fairly accurate at predicting the sale amount and at matching our gut valuation of the domains. On average, larger more sophisticated domain investors seem to sell about 1-3% of their portfolio every year at what they would call retail prices. If you own 100 domains, and you don't sell any in a year, then you are probably priced too high, and if you sell 10%+ in a year, you are probably selling them for less than retail. If you sell 2% of your domains every year, it would take 50 years to sell ALL of your domains, so we consider "retail" is a VERY high price.
So, if you only sell 2% of your domains every year, what do you do with the other 98%? The answer is you have to put them to work for you making money, at least enough to pay for their registration fees every year, and MORE if you want to be paid "anything" for your time. During coming months, we are going to be exploring some ideas that ANY domain owner can use to make sure that their extra domains are always making money.