An onslaught of new wellness features coming out in 2011 will no-doubt make

Jitterbug the first vertical market consumer cell phone to provide enough service and software innovation to actually make seniors go out and buy what is otherwise an unremarkable cell phone.
The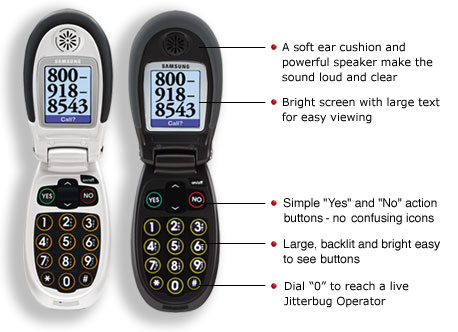 Jitterbug phone is easy-to-read and easy to use, a perfect phone for seniors and others who may otherwise be technology phobic. What sets the phone apart, however, is not the hardware but an evergrowing slate of services which back up this unique offering.
Right off the bat, users will appreciate that pressing 0 or 611 doesn't just connect you with a computer voice, but instead, this phone is supported by 24 hour live operators who are immediately available. Give them a new phone number for a friend or family member, and they will program it into your phone's memory for you, or ask for help with any feature of the phone or service.
During 2010, instead of leapfrogging hardware like most phone developers, Jitterbug will be focussing their development energy on a variety of new health offerings, beginning with a weekly phone call offering a new health tip, followed by a couple of yes-or-no questions about your emotional and physical health. The answers to your questions are available at myjitterbug.com for seniors to evaluate their progress or for family members to check on from time to time. MyJitterbug.com is also available to family members who may be a bit more tech-savvy to program your speed dial numbers for you etc.
Also coming soon are features such as a medicine voice call reminder which asks you to confirm that you have taken your medicine with Yes or No response, again with tracking information on MyJitterbug.com. Also, subscribers can request a daily wake-up call or check-in call just to make sure you are doing OK.
Jitterbug plans range from $15-30 per month. Some of the higher level subscription plans also include roadside assistance and other services, making Jitterbug a one-stop shopping solution for seniors.