Descent: Journeys into the Dark is a 2-5 player high adventure fantasy game where epic heroes delve the depths of dangerous dungeons fill with formidable foes. One of these players takes the role of 'The Overlord' and pits his strategic wits against the hero players using ogres, dragons, and a wide array of deadly traps.
The hero players choose from a set of epic characters with their own unique abilities. Each character grows in wealth and power as the adventure continues,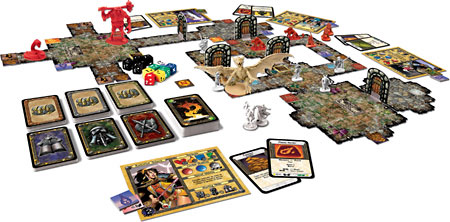 but they must still be wary, for The Overlord's power grows as well. For those who just cant get enough of this great game, Descent also boasts a pair of expansions. Descent: Well of Darkness, and Descent: the Altar of Despair. The third expansion, Descent: The Road to Legend, is slated for release this march.
Descent: Journeys into the Dark has been around in its classic board game format since 2005, so why did we wait so long to tell you about it? Because it's finally going digital. Board Games Online has just closed the beta test for the new Descent: Journeys into the Dark PC game. This game will be the first game launched using BattlePawn, a new 3D boardgame engine. The game promises to be faithful to the widely popular boardgames feel and style with a fully realized 3D environment, 20 customizable heroes, and options for internet play.
ANALOG SPECIALS: Even though we are admitted techno-geeks, every now and then, we find an enjoyable 'no-tech' form of entertainment that catches our notice. These "Analog Specials" can vary from a highly recommended theatrical performance, to a complex, irresistible puzzle, although they often have an interactive online community or a digital aftermarket version. Today, it seems that everything eventually has a digital component to it, but sometimes, it is important for even the most avid gamer to see the world as bigger than your new 22" diagonal screen, or occassionally as small as a rubics cube in the palm of your hand.