Just as butterfly wings and peacock feathers reflect contrasting light patterns to creating brilliant natural displays, Qualcomm's new Mirasol display technology causes light to
interfere with itself
to achieve amazing contrast and outdoor readibility. At the same time, Mirasol displays to not require backlight in most environments, significantly reducing the power consumption used by the display, and thus increasing battery life of mobile devices.
At the Cellular Telephone Industria Association (CTIA) meeting in Las Vegas, Qualcomm announced that Cal Comp Electronics and Inventec will be using Mirasol technology in their upcoming phones for the Asian and European markets. Qualcomm also announced plans to create a 2.6 inch and 1.3 inch VGA resolution displays, in addition to their existing 1.0 to 1.2 inch displays. Currently, plans are to manufacturer bichrome displays, although full color display technology has also been demostrated.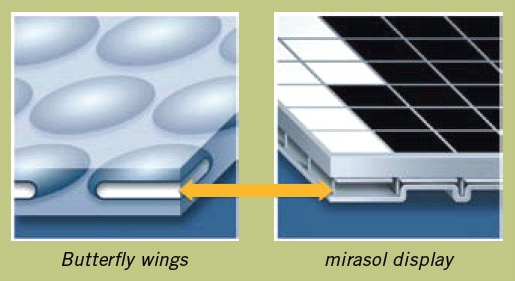 Because Mirasol displays reflect more light than traditional LCDs, they are much more readable in almost any amount of available light, and can be read without a backlight in all but the darkest environments. The greater the light, the higher the contrast, so outdoor environments are even better.
Expect to see Mirasol displays on more and more phones, especially flip phones that have both an internal and external display, where the external display is monochromatic. In addition to cell phones, watch manufacturers and PDA manufacturers are also currently evaluating the technology for inclusion in their devices.