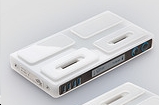 The guys at Bug Labs never grew up. As children, they were the kinds of kids that were more likely to tear apart a toy to see how it was made than to actually play with it. As adults, they want to build their own toys.
The heart of the BUG system is an open source Linux computer called the "Bug Base" which is a computer about the size of a checkbook that controls all of the modules and features of the toy. A full computer with 128MB of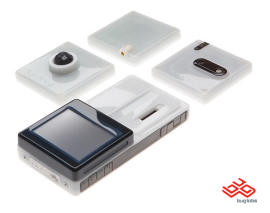 RAM, the Bugbase can be expanded by easily attaching either USB or ethernet devices, or by snapping in any of the bug-created modules, including a screen display, a camera, a motion sensor, and a GPS receivor (more modules coming soon).
The bug system can either be attached via a tri-pod mount or their own snap-mounts to any other device, such as a movable robotic platform.
What you do with the bug is up to the creativity of the owner, and since it is based on an open-source model, the creativity of all owners will likely be shared. Building your bug, in the short term, will be as simple as snapping together all of the pieces you want, and then uploading software and customizing it to suit the features you would like to see on your new toy.