The innovators at Canesta believe in the future, every room in the home will include devices that are controlled entirely with hand gestures, and so they have developed the chips, software and imaging technology to make this possible. What still remains is for manufactures to incorporate this new technology into products.
The Canesta system invisibly illuminates you up to 10 feet away from a slight angle, and then a camera and software interprets your gestures.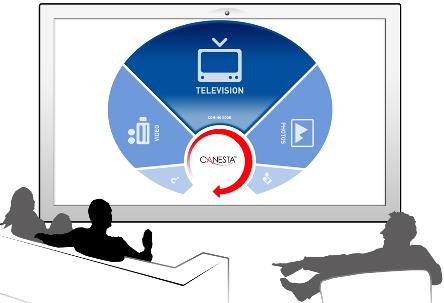 Falling asleep while watching TV? Just raise your hands and making a clapping motion and it will shut off the TV. Want to change the channel or operate a menu? Just make a circular motion with your hand to the right or to the left.
With a simple wave of your hand, you can replace a half dozen remotes, and instead use on-screen menus that understand your gestures.
The Canesta technology was demonstrated in the Hitachi booth at CES 2009, one of the first adopters of this technology. With a rapid movement of your hand, you can turn on a Hitachi TV, then control volume or change channels.
This technology takes the Wii experience to the next level, using the human body to control rather than using a motion-sensing remote. Next step, air guitar, like Guitar Hero, but played the traditional way.
For more info on Canesta chips and technologies, visit www.canesta.com.