At my brother's house on the outskirts of town, my Sprint phone is, well... useless, at least in his office, and at least until Sprint introduced the Samsung Ubicell base station. My brother, who gave up on Sprint long ago, but who misses the Rev A high-speed internet access when on the road, is now rethinking about returning as a customer, and I am sure he is not alone.
The Samsung Ubicell is currently the smallest and most cost effective CDMA base station solution on the market. The solution is innovative, allowing customers in poor wireless service areas to transfer their call seamlessly to a cellular station connected to the internet. When you are within 300 feet or so of the base station, the ubicell takes over the call and routes it to the Sprint network via your cable or DSL connection, and then as you exit your house, it hands the call back over to the wireless network.
For some time, carriers have been trying to figure out how to allow customers to switch to WiFi when in the home or office, but the problem has always been the handoff. Most carriers have experimented with dual-mode phones which can communicate as both cellular and WiFi, but the adoption rates have been poor at best. The Samsung Ubicell turns the WiFi question upside down, and keeps the call on the cellular network even when in proximity of a high speed internet network.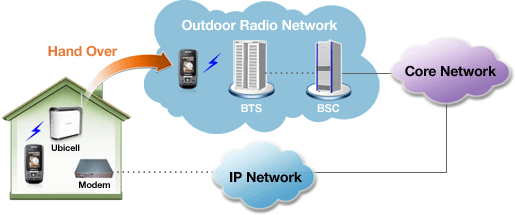 The Ubicell technology is an affordable solution for both homes and businesses who may be plagued with dead spots or sporadic coverage. Today, Ubicell is only available from Sprint, but other carriers are expected to adopt the technology. For more information, visit www.samsung.com