Media Vault is a small business answer to how to safely backup "mission critical data." Ideally suited to small medical offices, photographers, family records, or others who simply cannot afford to lose archival data, the Fire King Media Vault can store up to two 2.5" hard drives, offered in 250GB or 500GB versions.
For many companies, when a fire does occur, the reason that the business never restarts often has more to do with the catastrophic loss of data than it does the loss of physical assets. While most companies have some sort of backup regimen, they simply are not protected in the event of a fire.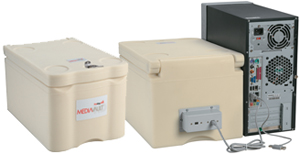 Fire King, the world leader in fireproof paper filing systems, has been working on the media vault for some time. The key innovation behind Media Vault is an enclosure design that can completely enclose a hard drive in an air tight environment, while dissipating the heat generated by the drive so that even when writing data 24 hours a day, the drive doesn't exceed allowable operating temperatures.
Should you exceed your storage capacity, you can easily open the vault and add a second hard drive or swap out a hard drive and take the old drive off-site. Also, since the enclosure is designed to accept standard 2.5" enclosed drives, you can upgrade the storage simply by purchasing portable drives from Seagate or other manufacturers.
The first thing you will notice when you get your media vault is that it is HEAVY, 55 lbs -- so just removing it from the box can be a chore. When the box is in place, however, the weight alone is a strong theft deterent, which is important because there is no facility for screwing the box into the floor, etc. Also, these boxes are stackable, so you can purchase several and store them in an area the size of a filing cabinet.
For more information about the media vault, visit www.mediavaulthd.com