The D-Link DNS 323 Network Storage box will hold up to two SATA drives that can be used as aggregate memory or as mirrored drives (via RAID1). With 750GB drives now becoming reasonably priced and available, this means that the a home office or small office environment can quickly add a 1.5 Terrabyte disk server to their network for a fraction of what it cost just a few years ago, without having to purchase and find a location for another computer just to hold the storage.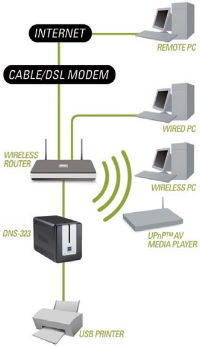 In a home environment, the DNS 323 device allows parents to password protect sensative information, and still access that information from any computer in the house. Remotely accessing the files via the internet is also possible using the included FTP software on the device. Also, if you own a UPnP media device, you can stream audio or video content wirelessly from the NAS server without accessing any of your computers.
The DNS 323 comes without any storage drives, so you will need to purchase one or two SATA hard drives. Unless you are doing a Raid Mirroring solution, we recommend that you start with one large drive, and as you fill it up, get a second drive (which will no doubt be larger AND less expensive).
Configuration of the device is simple and straightforward. Use the enclosed CD on any computer on the network to configure the device and setup user groups and passwords. After that, simply visit each PC on the network and "map" the network drive to a local drive letter (F:, G:, H:, etc).
Most households and small businesses use network storage drives for backup, but if you use it for archiving or streaming media or controlling access to sensitive data, you will need another backup solution. One solution is to have yet another DNS 323 at an offsite location, and use the built-in FTP software to backup key data between the two devices via the internet. If you use one of the mainstream internet backup services such as Carbonite or Mozy, however, this device will not be backed up, as these services do not backup "mapped' drives.
For more information on the D-Link DNS 323, visit www.dlink.com.