At just $25, the Slime Smart Spair is a good investment for any car or SUV. Small enough to fit under the seat, with this little kit, you can be up and running and back on the road before you can dial 800-AAA-HELP. Never be late for an appointment again, and you never have to hear that old "flat tire" excuse from your employees ever again. This year, as gas prices soared, many of the large auto makers started looking at smaller and smaller cars for 2008 and beyond, including several new hybrids which, in order to make room for the batteries, have lost the spare tire altogether. For these cars, and for other smaller sportier cars, the Smart Spare is an absolute necessity. And, while just the idea of cars without spares leaves some people feeling insecure, most come to realize that the hassle of changing a tire is more work than they want, and even with free road-side service, most would rather just make a temporary fix and be on their way.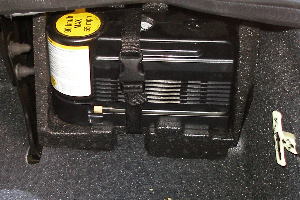 One of the hot new cars that comes without a spare is the 2007 Saturn Sky, which has become our favorite roadster of late. Just for grins, we pulled out the tire repair kit from a Sky, and replaced it with a Slime Smart Spair. In the photos to the right, you will see the existing kit, which occupies nearly three times the square footage of the standard Smart Spair product. In fact, the footprint of the Slime Smart Spair is so small that it doesn't require the awkward styrofoam carrier, because it fits perfectly in the flat niche along the back wall.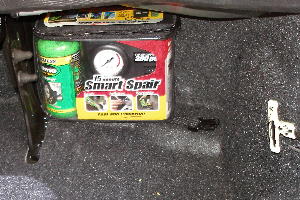 With the Slime Smart Spair installed in the place of the OEM compressor and liquid, we opened up enough trunk room to fit another grocery bag or a small overnight bag. If any of you have seen the limited trunk room on this groovy little car, you know how important this extra space can be.
The Smart Spair kit includes a powerful 300 PSI air compressor, a 16-ounce bottle of Slime Tire Sealant and a complete air valve tool kit. The portable, 12 volt air compressor plugs into a vehicle €™s cigarette lighter, significantly reducing the time it takes to fix a flat tire. In this simple process, there is no need to remove the tire or jack up the car. Slime sealant is inserted into the tire through the tire valve stem, and the compressor is used to inflate the tire. In less than ten minutes the puncture is sealed, the tire is completely inflated and the car is ready to hit the road again.

In addition to the Smart Spair product reviewed here, Slime also introduced a new Power Sport Smart Spare for motorcycles and recreational sport vehicles. With a little less power in a much smaller package, the new will actually fit under the seat of many motorcycles made today.
You will find Smart Spair products at many of the big-box retailers. For more information, visit www.slime.com/smartspairs