Every Christmas morning, I am horrified watching family members wrestle open those plastic security packages that virtually everything at Costco and Walmart are packaged in these days. Ducking every manner of sharp implement pointing and flinging in every direction, I am reminded of the famous Christmas Story movie warning, "You'll shoot your eye out, kid!"
The Zibra Open It is much more than just a cool looking pair of tin snips. In addition to the swiss-army-knife like features built into the handle, what really sets the Open It apart is the offset and angled cutting blade, which is perfectly designed for cutting around the edges of a plastic clamshell package without slicing your hands on the newly sharpened plastic edges.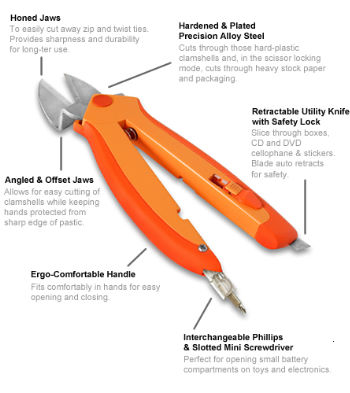 Also included in the handle is an automatically retracting utility knife that can be used as a box cutter, or for cutting plastic wrap or stickers. We found this blade to be the perfect size for opening CD cases.
One of the features that we keep forgetting about is the philips head and slotted mini-screwdrivers also built into the handle, which is designed for opening battery and other compartments on toys.
The only problem we encountered with the Open It was that it felt like our hands were getting pinched sometimes when we used it. With all of the sharp edges, blades and such on this device, the occassional "pinches" were making us really nervous to use it at first. Upon closer examination, however, we found that the blade lock on one handle and the screwdriver tab on the other each extended out from the device about a quarter inch. Therefore, when we close the shears, the skin under the little finger would tend to get stuck in this small open space, and it could pinch fairly hard especially if we were wrestling with a particularly tough package. But, the parts being plastic and mostly round, we never drew blood with these pinches, and in the end, we considered the bodily risk to be minor compared to all known alternative methods of getting those darned plastic packages open on Christmas morning.